The Kazune-Z members.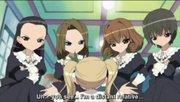 About the Kazune-Z
Edit
Kazune's fan club. Their goal is to "preserve" and help Kazune in any way possible. For example, when Kazune was tired out from helping Karin and fell asleep in class, the girls all raised their hands so the teacher wouldn't call on Kazune. They also got all jealous when Karin got close near Kazune, and afterward when they've questioned what exactly is Karin to Kazune, she lied that she is a distant relative, for her own safety. In Kamichama Karin chu, they had worked in a cafe with Karin and were jealous Kazune was paying so much attention to her. Rika had noticed this and had implanted a seed of chaos in the cafe, which made them leave her to work the cafe alone. Once the seed was destroyed, with the help of Micchi, they returned and began to think a little better of her ("for the night" they say) until she became close to Kazune again.
Ad blocker interference detected!
Wikia is a free-to-use site that makes money from advertising. We have a modified experience for viewers using ad blockers

Wikia is not accessible if you've made further modifications. Remove the custom ad blocker rule(s) and the page will load as expected.