Himeka Karasuma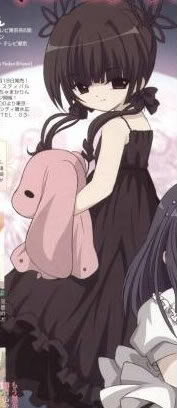 Name: Himeka Karasuma
Debuted in: Kamichama Karin Episode 6 (Dosukoi! Love Filled School Festival~)
Voiced By: Kozue Yoshizumi
Appearance
Edit
Her hair is black/brownish hair, her hair is usually tied up in pigtails. She mostly wears a black/brownish dress that goes along with the ribbons on her pigtails.
About Himeka Karasuma
Edit
She is the other half of Himeka Kujyou, and is living with Kirio Karasuma and Kirika Karasuma. In the beginning of the series she is unhealthy, and spends most of her time in bed asleep or wanders around in her own home. She is portrayed as evil for splitting some of her life with the other Himeka, but she is only a container for Kirihiko Karasuma's research and therefore highly protected by the Karasumas. In Chu, she appears to be the main antagonist instead of Kirio.
Ad blocker interference detected!
Wikia is a free-to-use site that makes money from advertising. We have a modified experience for viewers using ad blockers

Wikia is not accessible if you've made further modifications. Remove the custom ad blocker rule(s) and the page will load as expected.